Product Details
We As Architects in the Wheel of Life - Is This the Mathematics We Should Be Learning?

SKU: paulstangmath
Overview
Reach And Teach says:
A man stopped by our booth at a recent event and chatted with us for a while as he looked at some of our products. He was particularly interested in 25 Real Math Investigations That Will Astound Teachers and Students, wondering if very many public school teachers could use that curriculum in the classroom. That particular book has a great social justice edge to it, although the title or cover don't quite transmit that as clearly as we wish it would. We've sold quite a few to public-school teachers across the country. Having told him that, he began to thumb through it when the man running the booth next to ours returned from a presentation he had just given. "That guy's an absolute genius." our booth visitor told us, pointing to Paul Stang (our neighbor). "I've been teaching math for 20 years and I've never seen anyone present math in a way that even the most challenged kid in the world would learn something." Being severely math-challenged myself, this intrigued me.
Later, when the exhibit hall was quiet, I introduced myself to Paul and he showed me one of his three books. He told me that he loved the peacemaking and social justice focus of our booth and mentioned that he included peacemaking and social justice in his math curriculum. Then, as I was thumbing through We As Architects, I noticed a picture of a woman I recognized. Paul told me that she was his aunt, Dorothy Stang. Dorothy was a Sister of Notre Dame de Namur who had been assassinated for her work with the poor in Brazil. We knew about her through our partnership with Sisters of Notre Dame de Namur in Belmont California.
Dorothy's sister, Norma (Paul's other aunt) visited the booth that day. She was an incredible woman who shared stories about Dorothy and the difficulties the family has faced trying to help bring Dorothy's killers to justice.
What are the odds of being at a conference in Sacramento, meeting Paul Stang, a man who lives in the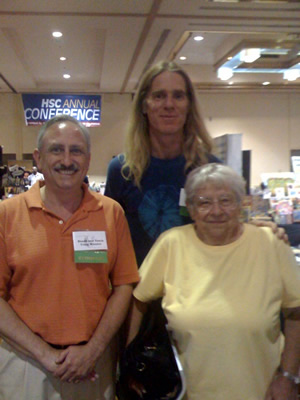 Czech Republic, whose aunt Dorothy was a Sister of Notre Dame de Namur, an order with whom we work in Belmont, and discovering a math book that weaved peacemaking and social justice into it?
Sounds like a good math challenge to me! Small world.
The next morning I went to watch Paul teach a group of people, as young as three and as old as me, about fractals. It was simply amazing. He put us into groups of around six people and we worked together on the challenges he gave us. Terrific teachers know that groups can make incredible things happen, when each person brings his or her own particular strength into the experience. Squares, triangles, cubes, hexagons and pentagons later, we were exploring geometry and each other.
Math is not just about math. It is about life, art, science, justice, peace, and war. Too many people have been left in the dust by the traditional methods of teaching math, and too much math is used for bad purposes - to fool the masses - because too many of the masses have been left out of the beauty of math. This book will help anyone with the will to teach math in a whole new way, right alongside of traditional methods or instead of.
We are one of the few places in the United States where you can get this book (Paul lives outside the country). You won't regret getting this book and I'm so glad that someone stopped by our booth to tell us about the genius next door!
About the Book (from the back cover):
What further could we be doing to make math more enjoyable, interesting, and inclusive?
Within this book are shown symbols of the ages (vehicles through which we can engage), techniques that creatively draw students into varied math topics, proven instructional materials which encourage unexpected growth, new ways to present, and new themes to comprehend.
Contents include:
60 working lesson plans for university and high school classrooms and interactive lectures
Step-by-step instructions toward amazing geometric discoveries, perhaps never seen by mathematicians
Summary of intelligence types and pathways for tapping them
Recommendations for reviewing, reducing, and even removing technology in the education process
Modern inventions like Zometools and Astro-Logix and their effective use in mathematics instruction
Over 100 recommended websites; a portion of which are listed at the end of each chapter, for improving the understanding of the teacher, student, and parent
Suggested topics for research; to break out of the "box" that is standardized education
Examples of recreational mathematics and how to inspire interest in the subject
260 pages - 8 1/2 by 11 - Black and White plus Color Illustrations
Product location: