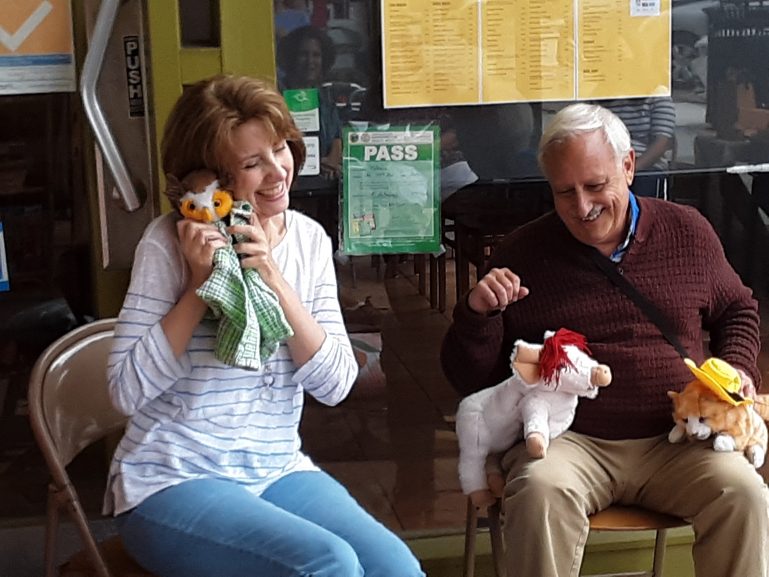 "Are you nervous?" Sharon asked Reach and Teach's co-owner Craig Wiesner. "Yes! Always!!" Although Craig started performing on stage at the tender age of three and went on to do school plays, led the Monterey Air Force Choir, and has been a stand-up trainer, public speaker, and has done lots of TV and radio, he had never before done anything like story time with singing and dancing and storytelling for an audience of 3-6 year olds.
So when Sharon McClintock, known as Ms. Sharon, offered to lead story time at Reach And Teach, we were thrilled. Parents have long asked us to have some kind of kids reading time for years but Craig never felt comfortable in that role. When Sharon offered to do an eight week series it also opened up an opportunity for him to be her apprentice. Craig confessed, "I was relieved that after our first gathering on July 7th she didn't end the gig by saying 'You're fired!'"
Our premier event went wonderfully (even magically). We had around eight kiddos plus parents/family and some dear friends show up at 10am on Wednesday. We had put out a beautiful carpet donated by Ms. Julie Garrett and some great throw pillows we had picked up from Mr. Target (pronounced TarJay). We put out our giant easel with felt on one side and white board on the other side proclaiming it was Story Time and we had the books and puppets and props and a few other surprises for the morning ready to go.
Here's Craig describing the event: "At 10am we welcomed everyone and then launched into our welcome song! Then we danced and then we shared books about puppies with dancing and songs between each book. It was a lot of fun! When it came time for me to read 'The Peculiar Pig' I was really nervous. Would I keep everyone's attention? Would they enjoy the book? Would I be able to read all the words fast enough and would I hold the book out enough and move it so that everyone could see it? Would the kids get that the peculiar pig was, in fact, a puppy? Yes, yes, yes, and yes. It was great!"
Another song and dance where Ms. Shelby came out and joined in the fun (yes, there is video), and one more story and we were ready for our goodbye song, which starts with See You Later Alligator, After A While Crocodile, and all the moves that go with each animal. And with that, we came to the end of Story Time at Reach and Teach.
Now we're getting ready for next Wednesday when the theme will be ROBOTS!!!!! The only thing missing is you so we hope you'll join us. Our story time series is scheduled for the next seven weeks but there is a rumor that it will be extended due to popular demand. Check out https://www.reachandteach.com/storytime for more info.