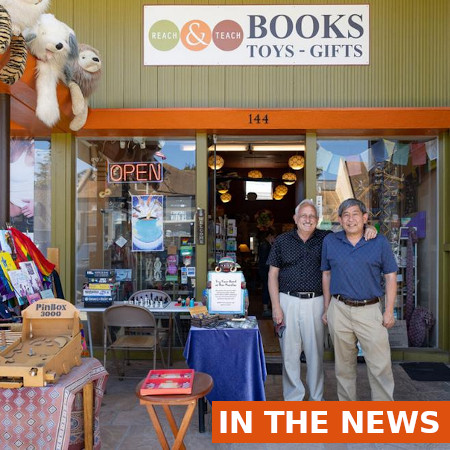 Excerpt from San Mateo Daily Journal, 6/29/2021
San Mateo's Reach and Teach owners reflect on progress
By Sierra Lopez Daily Journal staff
At Reach and Teach, a San Mateo-based book, children's toys and gift store, every item has a story, an intentional move by shop owners and husband duo, Derrick Kikuchi and Craig Wiesner.
"The key thing is we only sell what we love. What we have in the store is unique and you're not going to see it advertised online," Wiesner said.
Since first starting their business in 2004, the couple has centered social justice in this business model. Items sitting on the shelves of Reach and Teach at 144 W. 25th Ave. vary from socially informative books to interactive games to handcrafted jewelry.
When pointing out any item, both can launch into details of where the item was made and by whom, why they started making it and the future benefits purchasing the item will have.
While naturally inquisitive people and storytellers at heart, Wiesner and Kikuchi said their devotion to social justice and equity also grew from personal turmoil. As a young Jewish boy living in New York, Wiesner experienced the hardships of poverty and sexual assault before eventually enlisting in the U.S. Air Force.
In California, Kikuchi was being raised by a man once forced into a Japanese internment camp during World War II. The history deeply influenced his view of the world and even more so as he watched his father stand up for others to his own detriment.