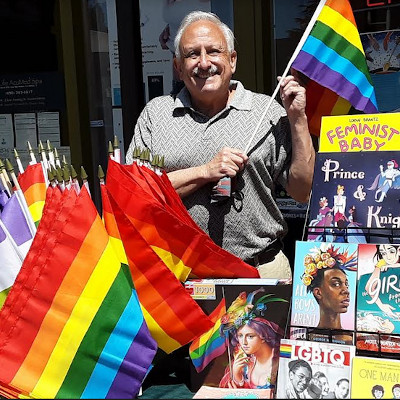 It is Pride Month and Reach And Teach has gathered great books, jewelry, pride flags, and more to help celebrate LGBTQQIA+ people and all of our wonderful allies. Check out shop.reachandteach.com/pride for just some of the bounty we've put together and stop by our shop to see it all! We are thrilled to be sponsors of San Mateo's Pride Week June 6th through 12th. We are donating 10% of any sales made from our Pride page (and anything else you purchase in that same order) to the San Mateo County Pride Center, so please spread the word!
Craig Wiesner, in his role as a San Mateo County Commissioner, worked with his colleagues to reach out to every city and town to ask them to issue a proclamation for Pride Month and raise a Pride or Progress flag! Every city in San Mateo County except one is flying a flag this year and 100% are issuing proclamations. Check out this article in the B.A.R. newspaper about San Mateo County Pride.
While keeping things safe in this time of Covid, there are still LOTS of great pride activities happening in San Mateo County. Check out the San Mateo County Fair Pride Day this Sunday (June 6th).
That's just the kickoff for a full week of events put together by the San Mateo County Pride Center, the Pride Initiative, the LGBTQ Commission, the County Office of Diversity and Equity, Behavioral Health and Recovery Services, and Reach And Teach! Click here to check out ALL the activities.