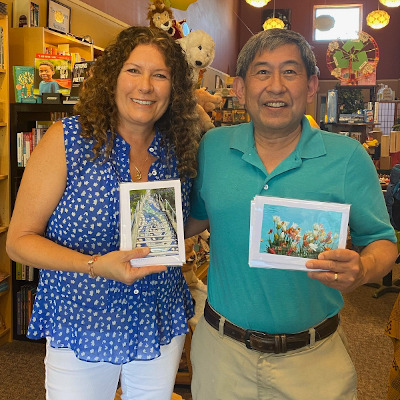 We are excited to announce that greeting cards featuring the photography of San Mateo's own Jeanne Barrett have returned to Reach and Teach.
Jeanne had approached us after we first opened our shop on 25th Avenue to ask if we might be interested in carrying some greeting cards she had made with her photos. They were beautiful. Within a week all that we had taken were sold and we really enjoyed getting to see Jeanne every month or so when she came by with more cards. They were among our very best sellers.
Jeanne has taken a few years off from her photography, but is back again and we are thrilled (as will you if you have never seen her wonderful work before). So, please give yourself a treat and check out her cards in our shop.
From Jeanne Barrett:
"I have always loved being outside. Nature nurtures me – it's good for my soul to be out of doors. As a mother of three and former producer of a travel television show, I wanted to bring my kids outside as much as possible when they were little to teach them about the world around them. We didn't need to go far. Right here in San Mateo County, on hikes and visits to the beach and bay, we found so much natural beauty on a scale both large and small. Outside, we found a way to disconnect from the noise of life and connect to nature and an inner peace. I began documenting the natural moments we saw — a ladybug on a petal, a tapestry of clouds over the Pacific — and making them into cards. By sharing these cards, I hope to bring joy to people by evoking memories of places they have loved and visited.
Having my cards at Reach and Teach makes this endeavor all the sweeter. I love the inclusivity Reach and Teach promotes and all of their products – from books to candles to toys to elephant dung paper  – make the best gifts!"