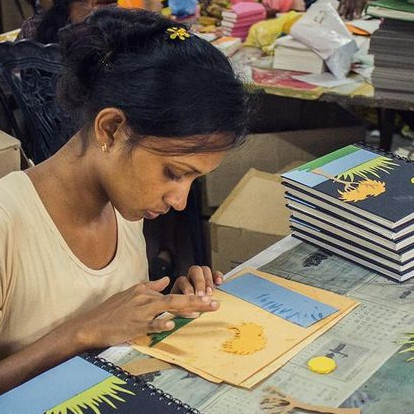 Oops We Did It Again! We've brought Mr. Ellie Pooh paper products back into our shop in San Mateo! Help save Elephants in Sri Lanka by using this beautiful paper made from elephant waste. (Actually 70% recycled paper and 30% elephant waste to be exact).
No trees or toxic chemicals are used in Mr. Ellie Pooh's paper making process. They only use all-natural vegetative binding agents, along with water-soluble salt dyes for coloring. Mr. Ellie Pooh's papers are handmade, acid-free, and as organic as it gets! Compared to using virgin wood, paper made with 100% recycled content uses 44% less energy, produces 38% less greenhouse gas emissions, 41% less particulate emissions, 50% less wastewater, 49% less solid waste, and — of course — 100% less forest destruction.
How Mr. Ellie Pooh got started…
Karl Wald started the company. Here's his story. Like many young people, Karl Wald always knew that he wanted to make a difference in the world. A trip to Sri Lanka and a chance meeting with a paper maker named Thusitha Ranasinghe turned out to be life-changing for Karl — and for the elephants.
Karl completed his post-doctorate studies at the USDA in 2004. In 2005, he arrived in Sri Lanka to shadow an elephant veterinarian. Dr. Wald also taught English classes. It was through his conversations with Thusitha that he was given a wonderful insight, which led him to become the founder of Mr. Ellie Pooh, LLC. Both men, as it happened, had a love of animals and concern for the environment. Soon the two friends found themselves looking for a way to save the elephants in Sri Lanka. Elephants naturally are not favored as neighbors by farmers, who, in turn are shrinking the elephants' habitat. When elephants trample and destroy valued crops, they are often shot and killed.
Karl and Thusitha believe that providing sustainable papermaking jobs gives value to elephants.
While it may not completely resolve the human-elephant conflict in Sri Lanka, Ellie Pooh paper is already going a long way toward raising the tolerance of farmers toward the elephants — by actually compensating them for damage to their crops. For this reason the elephant is seen more as an economic asset and less as a nuisance or threat. The people will not want to see the elephant disappear from their midst, and Ellie Pooh paper plays an important role in the saving the population of Asian elephants in Sri Lanka.
You can find a wonderful selection of stationery products from Mr. Ellie Pooh at Reach and Teach!