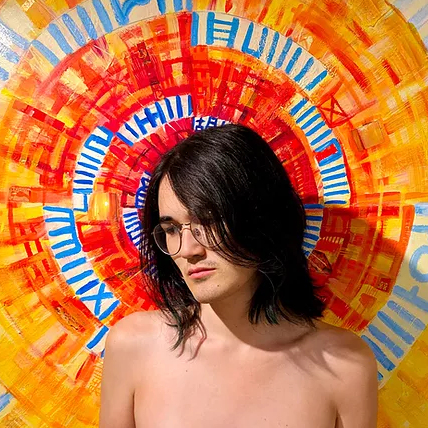 The amazing Shaw Lenox will be sharing incredible abstact art creations that you can simply look at and find awe OR you can take home! Works on paper, canvas, cards, and more will be on display from 5pm to 8pm on Saturday October 23rd. Plenty of room to social distance with art inside and out. Safe snacks and beverages will be shared. A portion of all sales will support Coast Pride! NO NEED to buy ANYTHING, just come and check out this beautiful art and meet the artist. 
Check out samples of work on canvas and works on paper. Here's the scoop on Shaw:
Shaw Lenox is a visual artist working primarily in acrylic paintings and mixed media sculptures. Her work tries to capture and celebrate the cerebral overstimulation of the world we live in through line, contrast, and symbols. Born and raised in San Francisco , she grew up biracial and bilingual; taking in both the American culture of her father's family and the Chinese traditions of her mother's family. Creative from a young age, Shaw grew up around her father's stained glass shop, taking in as much of the medium of stained glass as she could. She started painting in middle school, but took to it as a way to express herself in college. Influenced by her father's craft and her Chinese heritage, her paintings sometimes include lines that reference to the leading in stained glass as well as Chinese words. She has had works included in student art shows at Skidmore College as well as staged her own solo show.
Event date: Saturday, October 23, 2021 – 5:00pm to 8:00pm
Event address: Reach and Teach, 144 W. 25th Avenue, San Mateo, CA 94403-2208 (click here for directions)