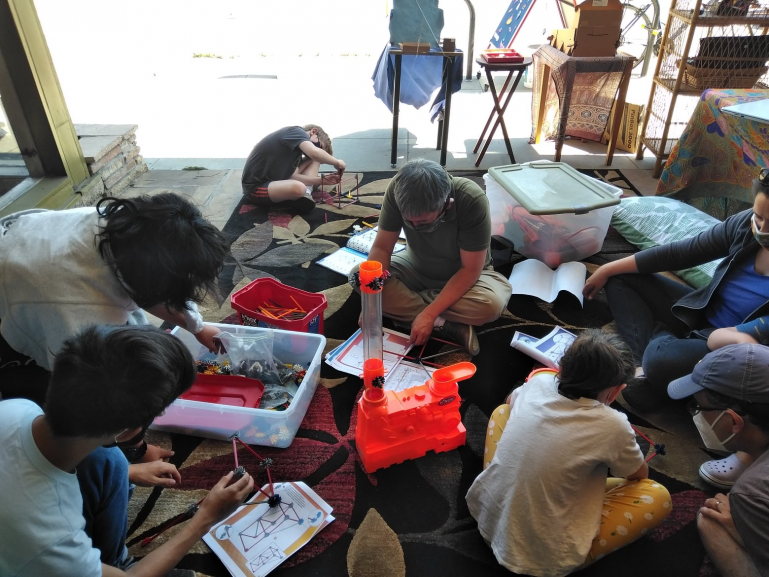 Reach and Teach – Books, Toys, and Gifts in San Mateo has always been a hands-on play space for its visitors. With many of its games and puzzles open and available to try, a table which often has an electronics set to experiment with or a microscope setup for viewing a collection of specimens, and a large Rube Goldberg-like K'nex construction in the front window, kids and adults alike find themselves in an environment that feels like a mini-Exploratorium in a shop. In addition, Fair Trade products from around the world including musical instruments, jewelry, chocolate, teas, and other gifts provide opportunities to learn about cultures outside the United States and the non-profit organizations that are partnering with these global communities while shopping for a unique and uncommonly beautiful gift.
Because of Reach and Teach's highly interactive environment, a question that parents have often asked when they come into the shop is: "This place is amazing. Do you teach any classes or host parties for kids?" With the debut of "A Taste of Reach and Teach" starting this week, the answer to that question will be: "What we offer is a facilitated hands-on STEAM-powered hour of fun based on our products. You provide two to three kids, we provide the rest!" (For those who don't know, STEAM stands for Science-Technology-Engineering-Art-Mathematics.)
As Easy As Ordering Off Of A Menu
To get started with "A Taste of Reach and Teach", Reach and Teach visitors are given a menu to look at that lists various project activities and their prices. Basically, you are buying the project you wish to build and then reserving an hour for two to three people to work on the project with the help of a Reach and Teach facilitator. Making a reservation is made easy through a link to an online reservation system which you are given when you purchase the project.
The cost? Just the price of the product! For example, if you have two kids, one who wants to build a solar rover and the other a solar robot, just buy each of the kits and the hands-on one-hour experience in our shop is free. One of our staff will help the two or three children work on their projects, with helpful tips about the science, math, technology, engineering, or art that are involved.
You can buy the product(s) online or in our store. We'll set the product(s) aside until you come in for your scheduled hands-on experience.
Schedule Your Appointment
Appointments are available Wednesdays, Fridays, Saturdays and Sundays. Our easy to use appointment system allows you to choose your date and time and let us know which product(s) you'd like us to work on with your kids!
Click here to make your appointment! We'll send you reminders as the day and time you chose gets closer. Need to change appointments? No problem. You are in complete control!
Here are some of the current offerings (product prices range from $14.99 $85.00):
Intro to Tronex – Learn about basic circuits and wiring electronics
Build a Solar Rover or Solar Robot – Build a working solar rover or robot
Learn to Control K'Nex & Other Stuff with Coding
Bluetooth Control Your K'Nex Inventions – Learn how your smartphone can control stuff
Introduction to K'Nex Building Kits
Introduction to Using Your Microscope
Introduction to Origami
Introduction to Chess
Fun with Makey Makey – Learn to create interactive toys and games with Makey Makey and Scratch
Hydro-Dip Skateboard Studio – Trick out your own miniature skateboards
Other Experiences Available – Just Ask!
We have many other products in the store with which we can offer a hands-on STEAM experience. Just because it is not on our menu doesn't mean you shouldn't ask! Our staff knows all the products with which we can work so please ask any of us if you spot something in the store that intrigues you.
How About More Time?
You get one hour free with each product and, if the project allows for more hands-on time and you'd like us to spend that time with your youngsters we're available for $50 an hour. Ask our staff if extra time can be scheduled for your project(s).
Safety
We do most of our hands-on work outside on our front patio. We do ask that all participants be vaxxed and we will do a forehead temperature check at the beginning of the activity. All of our staff is vaxxed, boosted, and frequently tested.
Other Questions?
Please feel free to contact us by email or call 650-759-3784 (during store hours) with any questions you have about this program. We look forward to doing STEAM fun with you!