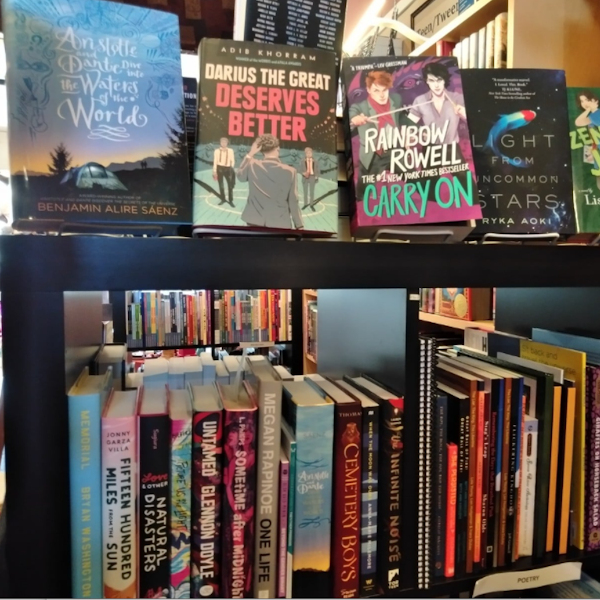 OK, it is official. There is NOT enough time to read all of the great new LGBTQQIA+ titles on our shelves. But…. we're trying!!!
In the 35 years since we came out we have never seen a year like 2021 for LGBTQQIA+ books, fiction, non-fiction, graphic novels, touching on just about every genre out there. From Sci-Fi to ROMCOM, coming of age, to aging in dignity, works by and about LGBTQQIA+ people abound. And, thank goodness, they all don't die in the end (except for the book by that title, where, in fact, spoiler alert, they do in fact die in the end).
How does an orthodox Jewish woman deal with a love that is forbidden in her community? Disobedience! How does a 13 year old Chinese girl, living in a lumber camp cope with the grind of working day after day in a country that doesn't want her kind? Learning stories about the legendary Antie Po and falling in love with the camp forman's daughter, of course! How does Simon Snow navigate being a "Chosen One" when half the time he can't get his wand to work right with a vampire for a roommate and a magic-eating monster running around? Simple, but you'll have to read the sequels to learn more.
There is truly something for everyone in the wonderfully crafted stories in these books and the ones you see on this list are just the ones that happen to have made it onto our reading lists (Craig, Shelby and Derrick each get to read some)! There are even more wonderful books out there like those on the American Library Association's Rainbow Roundtable and Lambda Literary lists! AND, please know that just because a book you might LOVE isn't on one of OUR lists, you can get just about any book in print by using the search bar at the top of our web pages. We are a complete online bookstore, able to get most books in print in 2-7 days. And… for instant gratificate, you can also get your e-Books and audiobooks from US! Just look for the buttons on the book page to take you to the e-versions.
And hey… if you'd like to join a really wonderful group that reads on LGBTQQIA+ book each month and then has a great discussion about it, please join the San Mateo Pride Center's book club! Craig Wiesner is one of the folks who started the club and is there every month. We meet via Zoom on the first Wednesday of each month at 4:30pm Pacific time. Click here to register
Happy reading!!!!
Check out our selection of LGBTQQIA+ titles in our shop at: https://shop.reachandteach.com/lgbtqgender-books