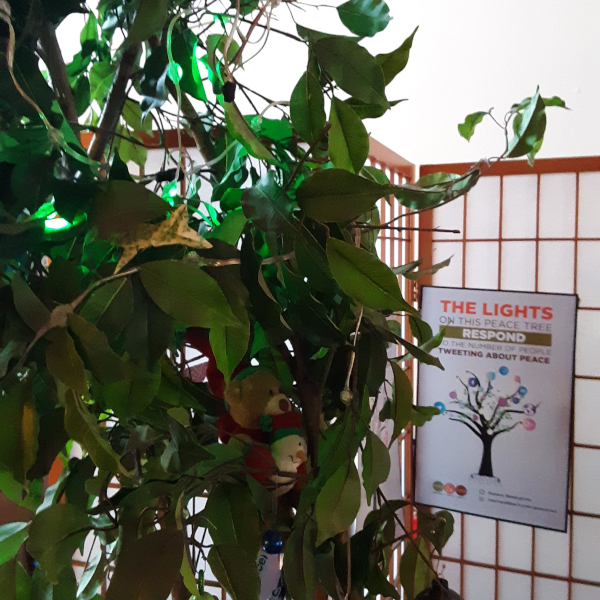 As we walk into Reach and Teach – Books, Toys, and Gifts each morning, one of the first things to catch our eyes is a strand of lights on our Peace Tree. As the lights flash from top to bottom in different colors we know that someone, somewhere, is tweeting about peace. Given the news we hear on the radio during the drive to our shop, which can often (as of late) be distressing, the twinkling lights on the Peace Tree remind us that all over the planet people are thinking about and doing something positive to create a more peaceful and sustainable world.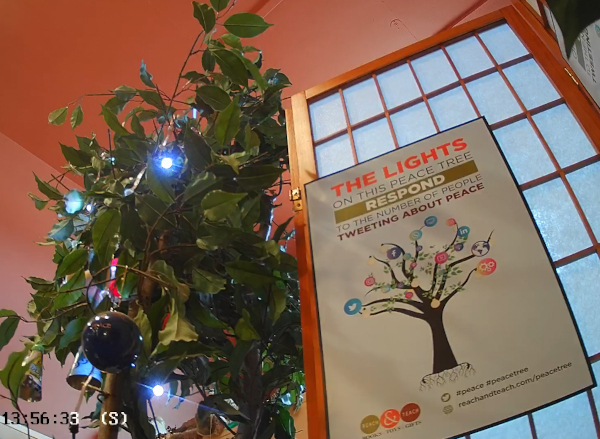 The idea for the Peace Tree came from a dinner conversation with dear friends Paul George and Steffy Reader. Over the years Paul has organized hundreds of protests, vigils, and other gatherings to promote a more peaceful and healthy world through his work as director of the Peninsula Peace and Justice Center. During dinner Steffy, Paul's significant other, was pondering the idea of virtual candlelight vigils with Reach and Teach's Derrick Kikuchi.
Public witness has always been a tried and true way to create social change and candlelight vigils have often gone hand in hand with such events. Votive candles are also often lit to remember someone who has passed on or is sick. Even before the Covid pandemic had forced most gatherings to become virtual, Steffy and Derrick were animatedly discussing the benefits of being able to gather people from around the corner and around the world together and do what so many people have done over the centuries, light candles of mourning and solidarity. Derrick wondered if his former career life experience as an engineering manager of Hewlett-Packard's Media Applications Learning Lab and his work with collaborative "any-time, any-place" technologies could have any applicability to this challenge.
Could a virtual candlelight vigil through the Internet be created? Derrick had no doubt after that dinner chat with Steffy that it would and could be done. He wondered if his challenge from that conversation might be how to measure and report how many people were thinking about and acting on peace in the world. A few months later (with the support and urging of other friends and colleagues) the Peace Tree was born and today there are a dozen of the trees out in the world. The goal, which Derrick plans to measure and report on, is to have 200 of these trees out in the world by the holidays in 2022, and one at the United Nations Headquarters by 2025.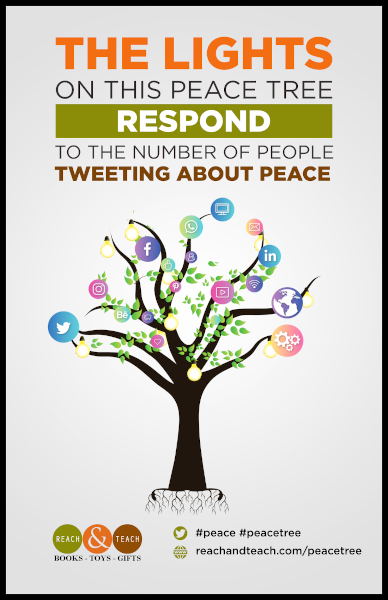 What is a Peace Tree? It is a string of LED lights, wrapped around a tree (or anything else), flashing in response to Twitter posts with the hashtag #peace. It has a simple single-board computer around the size of a silver dollar that connects to the Internet via WiFi. When people come to our shop and notice the tree and we tell them why it is blinking they always stand there for a minute or two and then slowly smile realizing that people somewhere out in the world are tweeting about peace at that very moment. We also have a web page where folks are invited to share one way in which they plan to do something for peace. Moments after they press "enter", the Peace Tree in our shop and all the others out in the world put on a special light show. It is a fun way that Peace Tree owners and others who visit the Peace Tree page can signal each other that they, too, are visualizing a more peaceful world.
It's been important from the beginning to make the design for the Peace Tree freely available to anyone who wants to build one. But we also realized that many might want a pre-built Peace Tree so that anyone can get one or receive one as a gift, easily set it up, and begin to enjoy what we get to experience all day long in our store: A vision and hope for a more peaceful world. Just about any time we look up, the lights are flashing. Someone, somewhere is thinking about and sharing thoughts about peace.
You can learn more about Reach and Teach's Peace Tree, see a live video feed of the one installed in our shop, and get information about purchasing a turnkey assembled set at: 
https://shop.reachandteach.com/reach-and-teach-peace-tree
You can find free plans for how to build your own from scratch at:
https://www.instructables.com/member/reachandteach/instructables/